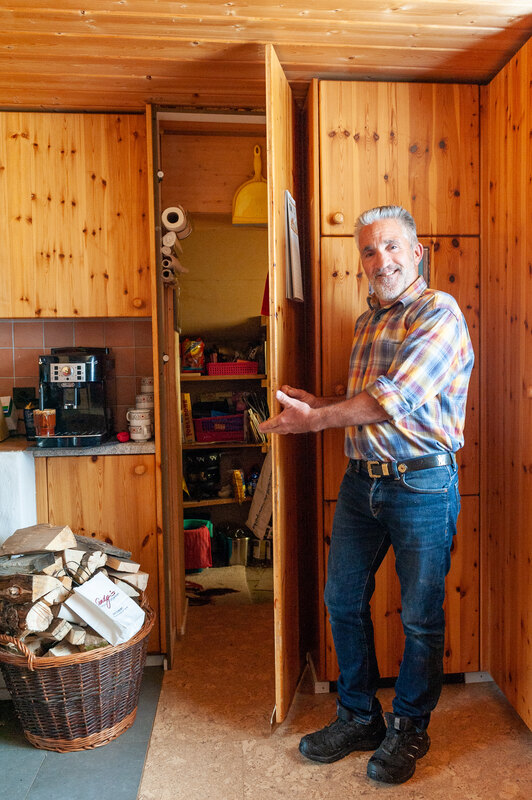 Bergbauer Markus Lütscher vor seiner Schpensa im mehrere Jahrhunderte alten Haus in Innerarosa. Nach der letzten Renovation des Hauses wurde die Tür zur Schpensa elegant als Küchenschrank «getarnt».
Mountain farmer Markus Lütscher in front of his Schpensa in his centuries-old house in Arosa. After the last renovation of his house, the door to the Schpensa was elegantly disguised as a refrigerator door.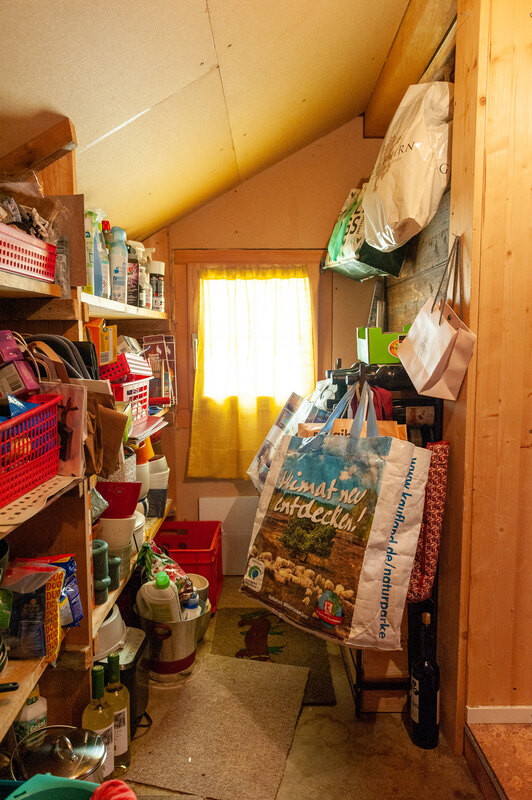 Das kleine Fenster ist wesentlich, da es die Schpensa nebst Tageslicht auch mit der nötigen Frischluft und Kühle versorgt.
The little window is essential because it provides the Schpensa not only with daylight but also with the necessary fresh and cool air.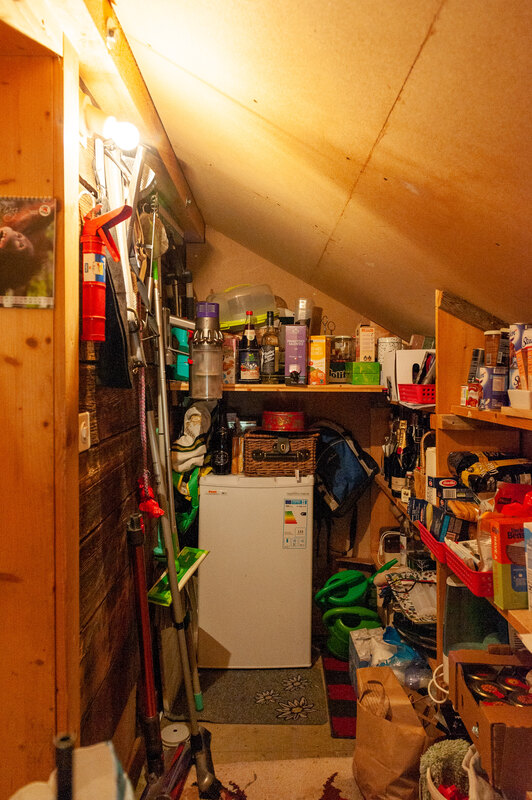 Nebst Lebensmittelvorräten lagern Markus und seine Frau Yvonne in ihrer Schpensa auch allerlei Utensilien und Reserven für den Haushalt.
Apart from food stock, Markus and his wife Yvonne use their Schpensa to store utensils and reserves for their household.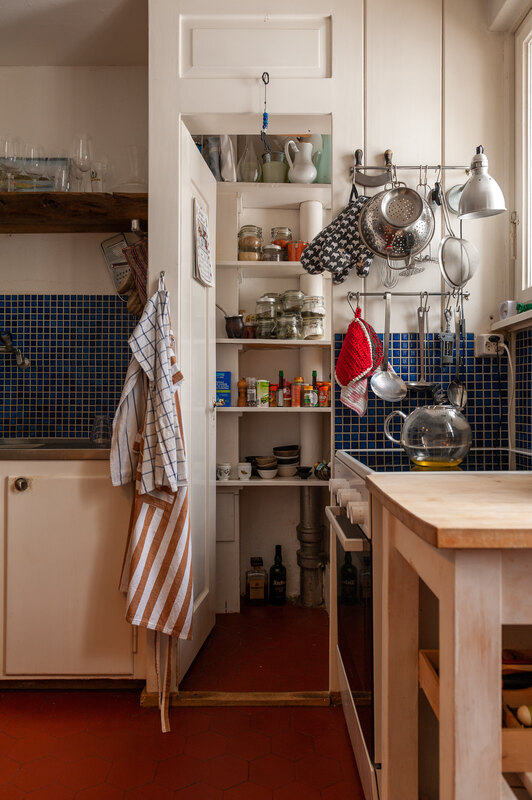 Der Fokus in der Schpensa von Anna Jelen und ihrem Partner Samuel Marguet liegt voll und ganz bei der Aufbewahrung von Lebensmitteln.
In the Schpensa of Anna Jelen and her partner the focus is laid entirely on the storage of food.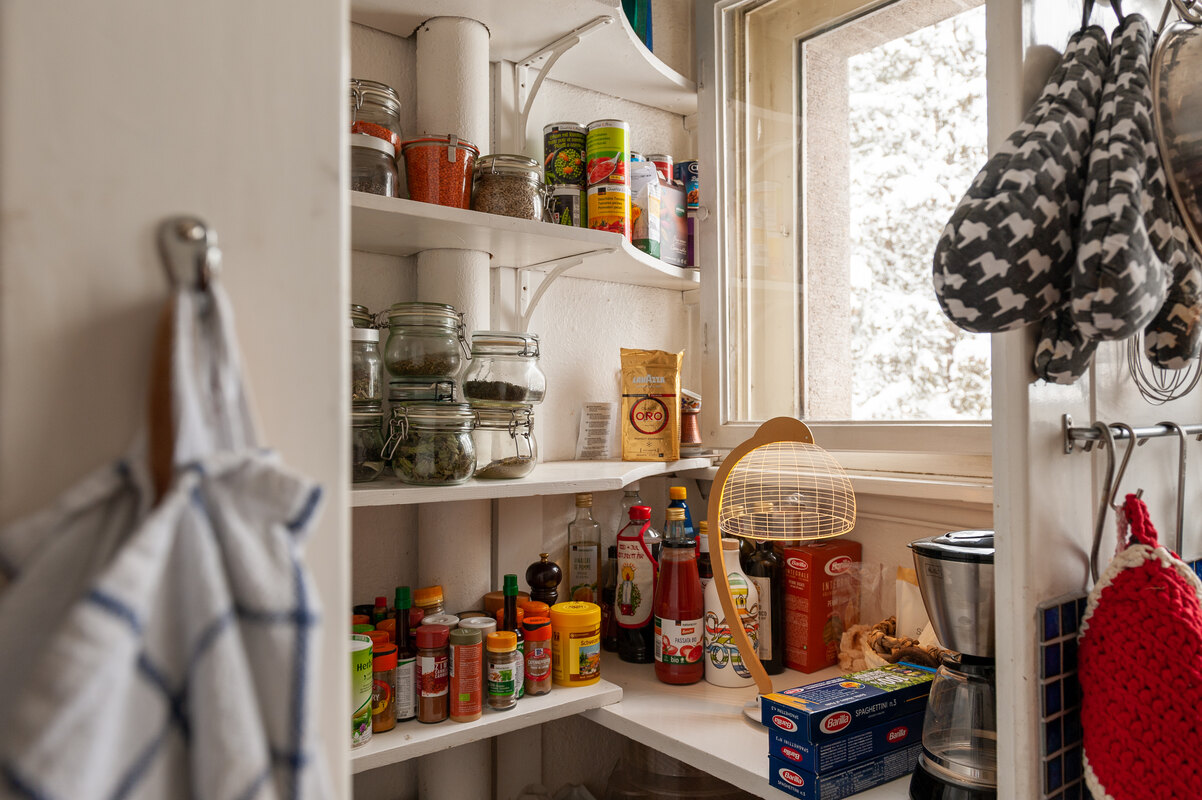 Bei Jelens ist die Küche der Lebensmittelpunkt im Haus und entsprechend ist man froh, dass die Schpensa separat belüftet werden kann, ohne, dass im Winter wertvolle Wärme aus der Küche entflieht.

In the Jelen household, the kitchen is the center of life. It is therefore a great feature that the Schpensa can be aired separately, without losing valuable heat from the Kitchen in the winter.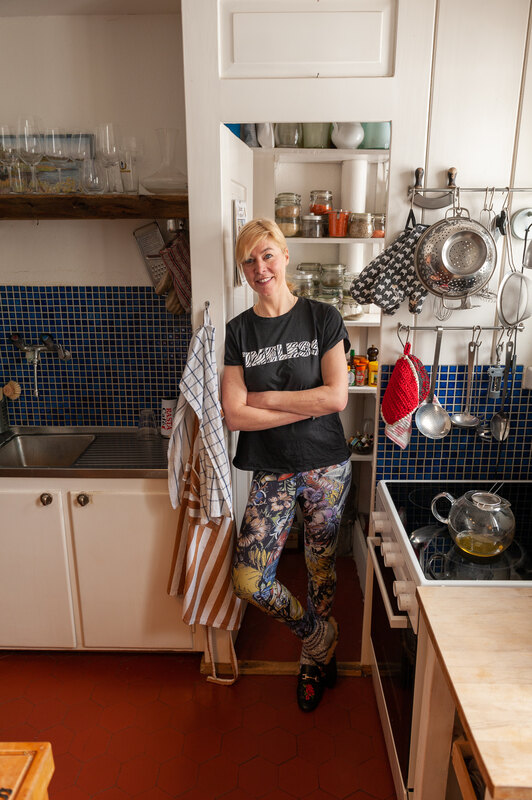 Keynotespeakerin, Künstlerin und wie sie selbst sagt, Zeitexpertin Anna Jelen in der Küche ihres schönen Familienhauses gleich am Obersee.
Keynote speaker, artist and self-proclaimed time expert, Anna Jelen in the kitchen of her beautiful family home at the Obersee.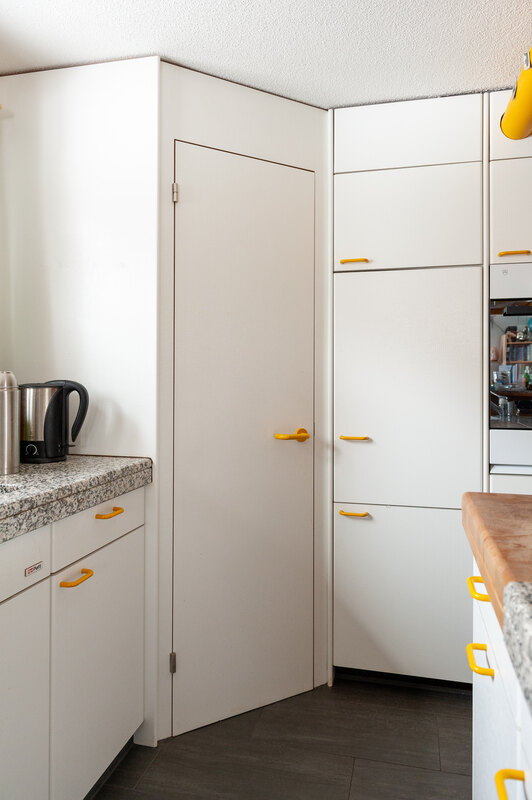 Die Schpensa in Nina Hombergers Wohnung ist im unverkennbaren Nineties-Look eingekleidet.
The Schpensa in Nina Homerger's home appears in the signature nineties look.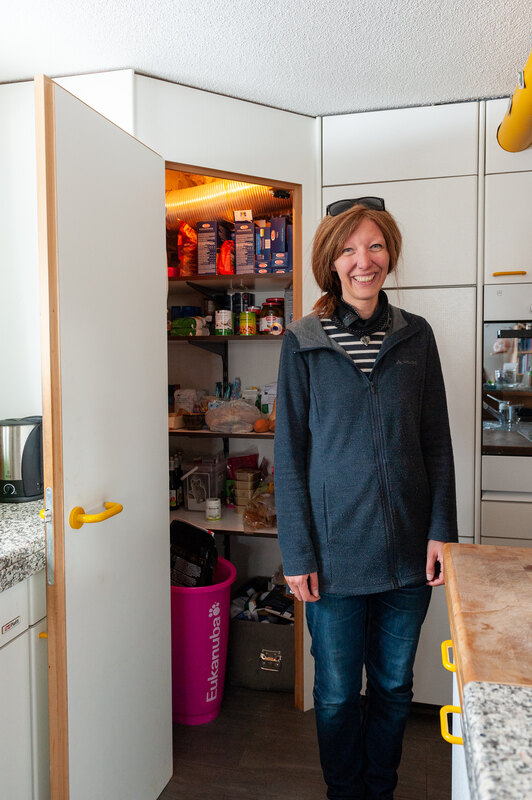 Die Schpensa der Fotografin ist in die Ecke der Küche eingebaut und wird statt über ein Fenster mit einer Lüftungsanlage mit Frischluft versorgt. Als einzige der hier abgebildeten Schpensas befindet sich Nina Homberger's in einem Mehrfamilienhaus.
The Schpensa in the home of the photographer is built into the corner of the kitchen and is provided with fresh air through a ventilation system. This is the only Schpensa in our series that is kept in an apartment building.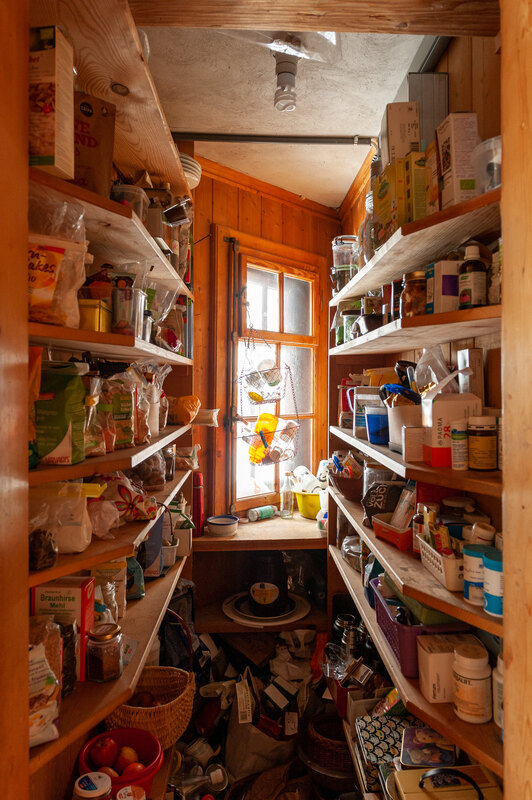 Blick in die Schpensa von Vreni Homberger in der Küche des geschichtsträchtigen Chalet Liebegg.
Peering into the Schpensa of Vreni Homberger in the kitsch of the historical Chalet Liebegg.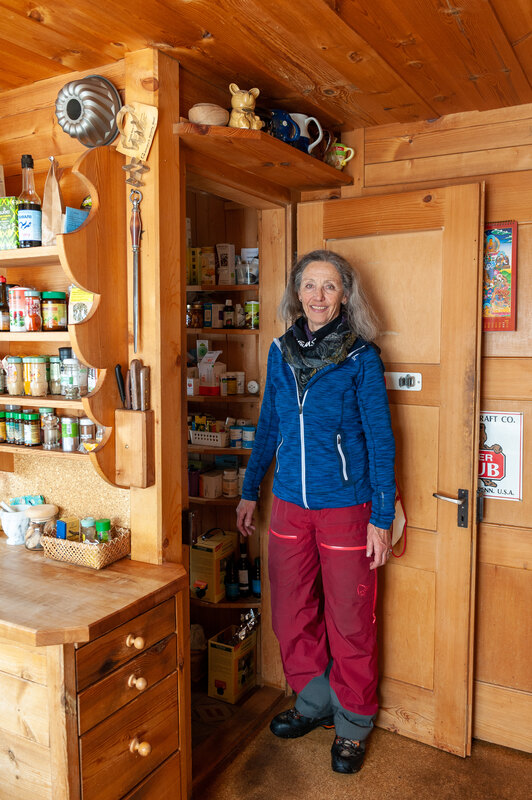 Die Alpinistin Vreni Homberger vor ihrer Schpensa in der Holzküche des Chalet. Auf ihren zahlreichen Kletter-Reisen in den Himalaya hat sie auch viel über Kartoffelanbau gelernt. Damals haben sie mangels einer Schpensa ihre Kartoffeln zur Erhaltung im Boden vergraben.
The mountain climber Vreni Homberger in front of her Schpensa in the wood kitchen of the Chalet. She learned a lot about potatoes on her many climbing tours in the Himalaya. At the time they would dig holes to keep their potatoes fresh since they did not have a Schpensa at hand.